Liz Truss: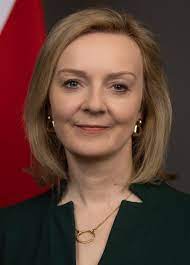 UK Foreign Minister Liz Truss has been elected as the next Prime Minister of United Kingdom and leader of the governing Conservative Party.
Liz defeated her rival, former Finance Minister Rishi Sunak by 81,326 votes to 60,399, after over a six-week-long grueling campaign.
With the win, she becomes the third female Prime Minister of the United Kingdom after Theresa May and Margaret Thatcher. Truss takes over at a time when the UK is saddled with rising inflation and its worst cost-of-living crisis.
Boris Johnson was forced to announce his resignation in July this year after months of scandal.
Following the announcement, Mr Johnson will meet Queen Elizabeth to officially tender his resignation.
A member of the Conservative Party, she has been Member of Parliament (MP) for South West Norfolk since 2010.
She has served in various Cabinet positions under Prime Ministers David Cameron, Theresa May and Boris Johnson.