What Is India Stack?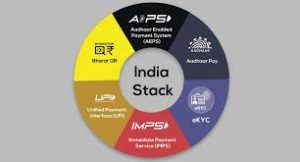 India Stack is the moniker for a set of open APIs and digital public goods that aim to unlock the economic primitives of identity, data, and payments at population scale.
The vision of India Stack is not limited to one country
It can be applied to any nation, be it a developed one or an emerging one.
It is the collection of Application Peripheral Interfaces launched by the Government of India.
This includes BHIM, Digilocker, UPI, and several other applications.
According to a recent report from the IT Ministry around seven countries are to join India Stack.
India is planning to export its digital products.
The government of India is currently looking for certified Stack Developers.
The plan is to hire them just as the big giants like Microsoft and Google hire certified analysts.
BHIM is being used in Bhutan, Singapore, Thailand, Malaysia, South Korea, Hong Kong, Taiwan, Cambodia, and Japan. Nepal was the first to implement UPI.