UK Prime Minister Liz Truss Resigns: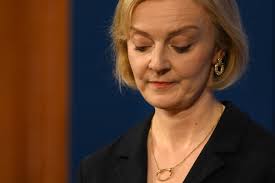 UK Prime Minister Liz Truss resigned just 45 days after taking office.
With the recent resignation, Liz Truss becomes the shortest-serving British Prime Minister.
This record was earlier held by George Canning, who served for 119 days in 1827 until he died of tuberculosis.
Truss is the fourth Tory PM to resign before the end of the term. Others are David Cameron, Theresa May, and Boris Johnson.
One of the major reasons for Truss's resignation is the infamous mini-budget, which sought to reduce income taxes for the highest earners and cut down some other taxes while increasing government spending.
Amid the historically high inflation, the mini-budget caused market turmoil because of increased borrowing and the possibility of the government not being able to repay the incurred debts.
Thus, the investors started selling all possible UK assets and the pound sterling fell to historic lows against the US dollar, worsening the imported inflation further.
Similarly, investors were unwilling to lend money to the UK government and started selling government bonds (gilts), leading to the price of gilts decreasing and their yields (the interest rate charged by the market for lending money) spiking.
The falling gilt value adversely affected the pension funds.
The sharp increase in market interest rates means that those with home loans have to either refinance or risk losing their homes and the new loans were costlier.
This occurred amidst the cost of living crisis in the UK and the high energy prices.
These issues caused many of her party members to call for her resignation.