Lokmanya Tilak National Award: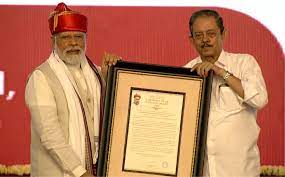 Prime Minister will be honoured with the Lokmanya Tilak National Award on his visit to Pune.
Lokmanya Tilak National Award was instituted in 1983 by the Tilak Smarak Mandir Trust.
This award is given every year on 1st August, the death anniversary of Lokmanya Tilak, to persons who have made remarkable and extraordinary contributions, working for the progress and development of the nation.
Bal Gangadhar Tilak, commonly known as Lokmanya Tilak, was a prominent Indian nationalist, freedom fighter, social reformer, and political leader during the Indian independence movement.
He was one of the prime architects of modern India and probably the strongest advocate of Swaraj or Self Rule for India.
He was born as Keshav Gangadhar Tilak and his followers bequeathed upon him the title of 'Lokmanya', meaning he who is revered by the people.
He was considered a radical Nationalist.
The British Government termed him the "Father of Indian Unrest".
He joined the Indian National Congress Party in the year 1890.
He also helped found the All India Home Rule League in 1916–18 with G. S. Khaparde and Annie Besant.
Tilak started his Home Rule League in Maharashtra, Central Provinces, and Karnataka and Berar region. Besant's League was active in the rest part of India. It aimed to advocate for self-rule and raise public awareness about India's right to govern itself.
Tilak was a prolific writer and journalist. He used his newspaper, "Kesari" (meaning Lion) in Marathi and later "Maratha" in English to disseminate nationalist ideas.
Some of his notable literary works include "The Arctic Home in the Vedas," where he presented his theory that the Vedas originated in the Arctic region, and "Shrimad Bhagavad Gita Rahasya," an interpretation of the Bhagavad Gita from a nationalist perspective.