Madhya Pradesh Tribal Outreach Programme: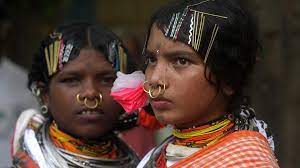 Madhya Pradesh government has initiated a massive tribal outreach programme in the state.
Important tribes in the state include Bhils and Gonds.
As part of the tribals outreach programme, the state has undertaken the following measures:
Implementation of the Panchayats (Extension to Scheduled Areas) Act, 1996, which allows self-governance through traditional gram sabhas for people living in scheduled areas.
Legalising mohua, a staple drink of the tribals, which will be sold as 'heritage liquor'.
The chief minister has also announced that petty cases registered against tribals will also be withdrawn, most of which are for production and sale of mahua-based liquor.
Home delivery of foodgrains distributed under public distribution across all 89 tribal blocks has also been announced.
University in Chhindwara to be named after Shankar Shah. Shankar Shah, son of Sumer Shah, was the last ruler of Garha Kingdom under Gond rule.
Railway station, bus stop to be renamed after Tantya Bhil, a memorial in his name in Khandwa.
A medical college in Mandla will be named after Raja Hirde Shah Lodhi, who had come from Kashi and settled in MP's Bundelkhand region. His ancestors had established their kingdom in the present-day Damoh which was then under Gond rulers.
Bhopal's Habibganj station renamed after Gond queen- Rani Kamlapati.
Raja Sangram Shah award for best work in tribal art and culture. He was the 48th Gond ruler of Garha kingdom.