Defence Acquisition Council: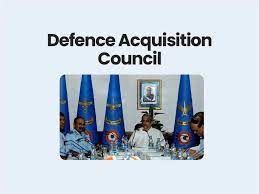 The Defence Acquisition Council (DAC) recently approved the capital acquisition of indigenously-developed military hardware worth Rs 70,584 crore.
The DAC is the highest decision-making bodyof the defence Ministry on procurement.
Objective is to ensure expeditious procurement of the approved requirements of the armed forces.
It was formed after the Group of Minister's recommendations on 'Reforming the National Security System', in 2001, post-Kargil War (1999).
Composition:

The defence minister is the chairman of DAC.
Its members include the Chief of Defence Staff (CDS) and chiefs of the Army, Navy, and Air Force.

Functions:

Give in-principle approval of a 15 years Long Term Integrated Perspective Plan (LTIPP) for defence forces.
Accord of acceptance of necessity to acquisition proposals.
Categorization of the acquisition proposalsrelating to 'Buy', 'Buy & Make', and 'Make'.
Look into issuesrelating to single vendor clearance.
Take decisions regarding 'offset' provisionsin respect of acquisition proposals above Rs 300 crore.
Take decisions regarding the Transfer of Technologyunder the 'Buy & Make' category of acquisition proposals.
Field trial evaluation.