Malaviya Mission: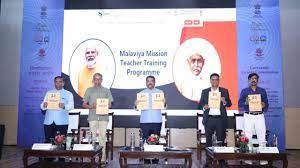 The Union Minister for Education unveiled the Malaviya Mission – Teacher Training Programme initiated by the University Grants Commission (UGC) in collaboration with the Ministry of Education.
The program aims to enhance the quality of education by providing customised training for teachers in higher educational institutions.
It aspires to equip 15 lakh teachers across India with the skills needed to meet the goals of the National Education Policy (NEP).
Renaming of Human Resource Development Centres (HRDCs) as Madan Mohan Malaviya Teachers' Training Centres was also announced.