Parashurama Theme Park : Karkala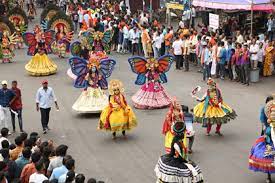 Karnataka Government will release ₹1.5 crores to the Parashurama theme park coming up at Karkala.
Parashurama is the traditional founder of Malabar and is said to have bestowed land there on members of the priestly class whom he brought down from the north in order to expiate his slaughter of the Kshatriyas.
He is the sixth incarnation among the Dashavatara of the god Vishnu in Hinduism.
He is believed to be one of the Chiranjeevis (Long-Lived Ones or Immortal Ones), who will appear at the end of the Kali Yuga to be the guru of Vishnu's tenth and last incarnation, Kalki.