CSIR PRIMA ET11 : Electric Tractor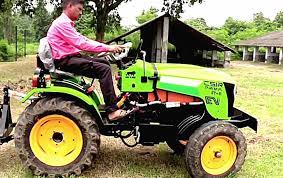 CSIR-CMERI developed a Compact Electric Tractor- CSIR PRIMA ET11.
CSIR PRIMA ET11 is an indigenously designed, compact, 100% Pure Electric Tractor. ( First-ever Electric Tractor)
It can tow a 8-ton capacity trolley with a max speed of 25 mph. (Tractor industry)
Objective is to cater to small and marginal farmers of India.
It caters to the demands of agriculture field applications.
Its dynamics, weight distribution, transmission engagements, then lever and pedal position everything has been well designed.
It has been made women-friendly with all the levers, switches, etc. being placed for an easy approach to the women.
Many mechanical systems are also being replaced with electronic switches for easy operations.
It has a state-of-the-art Lithium-ion battery with Prismatic cell confirmation.
When the tractor is not in operation, its battery power can be utilized for other secondary applications like pump and irrigation, etc.
The farmers can charge the tractor using a conventional home charging socket in 7 to 8 hours and operate the tractor for more than 4 hours at the field.