Fourth Crew Rotation : NASA's SpaceX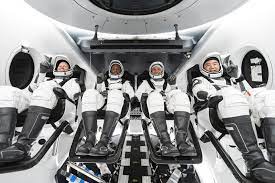 SpaceX and NASA are gearing up to launch astronauts to the International Space Station (ISS) as part of the Commercial Crew Program of NASA.
This will be the fourth crew rotation mission and will be carrying an international crew consisting of four astronauts on a science expedition to the ISS.
This mission will be launched on 20th April from NASA's Kennedy Space Center's Launch Complex 39A.
The Kennedy Space Center is located in Florida.
The crew that will be sent aboard the ISS will be spending several months conducting various maintenance and science aboard the orbiting space station.
The astronauts will be returning to Earth in the fall of 2022.
The crew will be riding on a new Crew Dragon spacecraft and will be launched on a Falcon 9 booster.
As a tradition of naming a new capsule by the first riding astronauts, the crew chose the name "Freedom" to celebrate the fundamental human right.
After docking at the space station, the Crew-4 astronauts will be welcomed by Expedition 67's seven-member crew.
Several days after Crew-4's arrival the astronauts of the Crew-3 mission will be undocking from the ISS and will splash down off Florida's coast.
The crew consists of NASA astronauts Bob Hines, Kjell Lindgren, and Jessica Watkins, along with Samantha Cristoforetti of the European Space Agency. The commander of the Crew-4 mission and the Crew Dragon spacecraft is Lindgren.