What are Mangroves?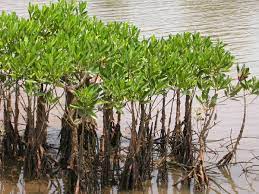 The Odisha government has proposed to raise mangrove and casuarinas plantations in the coastal belt.
Previously, the mangroves served as a natural barrier to cyclonic winds in Bhitarkanika National Park during Cyclone Yaas.
Odisha is vulnerable to various natural disasters like cyclones, floods, hailstorms, drought due to its unique geo-climatic condition.
Mangroves occur worldwide in the tropics and subtropics, mainly between latitudes 30° N and 30° S, with the greatest mangrove area with 5° of the equator.
A mangrove is a shrub or small tree that grows in coastal saline or brackish water.
Mangroves are salt-tolerant trees, also called halophytes, and are adapted to live in harsh coastal conditions.
They contain a complex salt filtration system and complex root system to cope with saltwater immersion and wave action.
They have blind roots which are called These roots help these trees to respire in anaerobic soils.
The seeds of Mangrove Forests trees germinate in the trees themselves before falling – This is called the Viviparity mode of reproduction.