Blackbuck Population Increased In Odisha: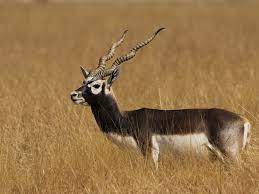 A census carried out by the Odisha State Forest Department revealed that Odisha's blackbuck population has doubled in the last six years.
The blackbuck is known in Odisha as Krushnasara Mruga.
Blackbucks are confined to Balukhand-Konark coastal plain/wildlife sanctuary in Puri District; Balipadar-Bhetnoi and adjacent areas in Ganjam District.
As per the latest census, the antelopes numbered 7,358, compared to 2,194 in 2011.
Improvement of habitats, the protection is given by the local people, and forest staff were some of the reasons for the increase in the population.
About Blackbuck:
The Blackbuck (Antilope cervicapra), or the Indian Antelope, is a species of antelope native to India and Nepal.
It is widespread in Rajasthan, Gujarat, Madhya Pradesh, Tamil Nadu, Odisha, and other areas throughout peninsular India.
It is considered the epitome of grassland.
It is considered to be the fastest animal in the world next to Cheetah.
The blackbuck is a diurnal antelope (active mainly during the day).
It has been declared as the State Animal of Punjab, Haryana, and Andhra Pradesh.
Cultural Importance: It is a symbol of purity for Hinduism as its skin and horns are regarded as sacred objects.
For Buddhism, it is a symbol of good luck.
Protection Status:

Wildlife Protection Act 1972: Schedule I
IUCN Status: Least Concern
CITES: Appendix III