ROPAX Jetty Project: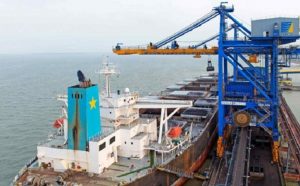 Rs. 110 crores ROPAX Jetty Project to come up on river Dhamra in Odisha.
Ministry of Ports, Shipping & Waterways (MoPSW) has accorded administrative approval for developing all-weather ROPAX (Roll-on/Roll-off Passenger) Jetty and allied infrastructure connecting Kaninali in Bhadrak district &Talachua in Kendrapara district, Odisha under the Sagarmala initiative.
The total capital cost of the project is Rs 110.60 crore which includes the construction of RO-PAX Jetty at Kaninali and Talachua, utility infrastructures such as parking area development, navigational aids, and dredging.
This project will reduce travel time for passengers from 6 hours by road to 1 hour by waterway.
Karnali in Bhadrak district and Talachua in Kendrapada district, are located on the northern and southern banks of River Dhamra respectively.