Megaliths Of Assam: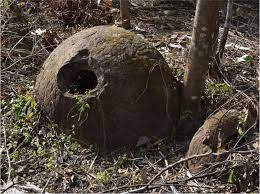 The discovery of a number of megalithic stone jars in Assam's Dima Hasao district has brought to focus possible links between India's Northeast and Southeast Asia, dating back to the second millennium BC.
The paper, 'An archaeological survey of the Assam stone jar sites' documents three distinct jar shapes (bulbous top with conical end; biconcial; cylindrical) on spurs, hill slopes and ridge lines.
At one site, Nuchubunglo, as many as 546 jars were found. This is arguably the largest such site in the world.
The study published in Asian Archaeology, calls for more research to understand the "likely cultural relationship" between Assam and Laos and Indonesia, the only two other sites where similar jars have been found.
Assam Megaliths:
Some jars are tall and cylindrical, while others are partly or fully buried in the ground.
Some of them spanned up to three metres high and two metres wide. Some of the jars feature decorative carvings, while others are plain.
The jars of Assam were first sighted in 1929 by British civil servants James Philip Mills and John Henry Hutton, who recorded their presence in six sites in Dima Hasao: Derebore (now Hojai Dobongling), Kobak, Kartong, Molongpa (now Melange Puram), Ndunglo and Bolasan (now Nuchubunglo).
Two sites were discovered in 2016. In 2020, four more sites were discovered by the History and Archaeology Department at North-Eastern Hill University, Shillong, Meghalaya.