Tiwa Community: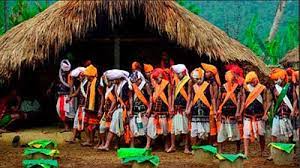 Almost 250 members of two extremist organisations in Assam laid down their arms before Chief Minister Himanta Biswa Sarma at a formal programme in Guwahati.
The organisations are the Tiwa Liberation Army (TLA) and the United Gorkha People's Organisation (UGPO).
Formed in 2014 to cater to the aspirations of the Tiwa community, the TLA was active in Morigaon, Nagaon and West Karbi Anglong districts of central Assam.
The UGPO, formed in 2007, was mostly active in the Bodoland Territorial Region and Biswanath district.
Tiwa (Lalung) is an ethnic group mainly inhabiting the states of Assam and Meghalaya in north-eastern India.
They are also found in some areas of Arunachal Pradesh, Manipur and Nagaland.
They are recognized as a Scheduled tribe within the State of Assam.
They were known as Lalungs in the Assamese Buranjis and in Colonial literature and in the Constitution of India, though members of the group prefer to call themselves Tiwa (meaning "the people who were lifted from below").