Mhadei Wildlife Sanctuary : Notify As Tiger Reserve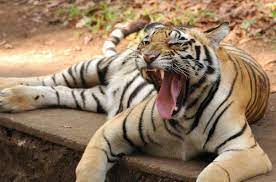 The Goa bench of the Bombay High Court has directed the Goa government to notify the Mhadei Wildlife Sanctuary as a tiger reserve.
Mhadei Wildlife Sanctuary is in the northeast of Goa, in the taluka of Sattari.
Its official declaration as a wildlife preserve came in 1999.
The Mhadei River, known downstream as the Mandovi River, the lifeline of the state of Goa, originates in Karnataka, passes through the Mhadei Wildlife Sanctuary and meets the Arabian Sea at Panaji in Goa.
The whole sanctuary acts as a catchment for the river.
Prominent Waterfalls: Vazra Sakla Falls and the Virdi Falls.
The cliff face near the Vazra Falls is notable for being the nesting grounds of the critically endangered Long-billed vultures. (Wildlife Protection)
It has been declared an International Bird Area because of the presence of the Nilgiri wood pigeon, Malabar parakeet, Malabar grey hornbill, Grey-headed Bulbul, Rufous babbler, White-bellied blue-flycatcher and Crimson-backed sunbird.
The three highest peaks in Goa are situated in the hill ranges of the sanctuary. They are Sonsogod (1027 mts), Talavche Sada (812 mts) and Vageri (725 mts).