The Ramgarh Vishdhari Sanctuary : India's 52nd Tiger Reserve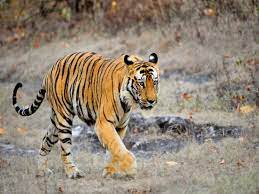 The Ramgarh Vishdhari Sanctuary in Rajasthan was notified as India's 52nd tiger reserve, Union Environment Minister Bhupender Yadav said.
This is Rajasthan's fourth tiger reserve after Ranthambore, Sariska and Mukundra.
Ramgarh Vishdhari Wildlife Sanctuary and adjoining areas as tiger reserves on July 5 last year.
The newly notified tiger reserve includes the tiger habitat between Ranthambore Tiger Reserve in the northeast and Mukundra Hills Tiger Reserve on the southern side and facilitates dispersal of tigers from Ranthambore Tiger Reserve.
According to "Status of Tigers in India" report released in 2019, there are 2,967 tigers in 20 states across the country.