SAMRIDH Programme.: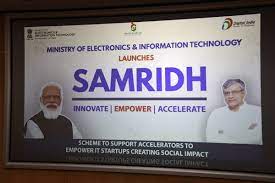 Minister of Electronics and Information Technology (MeitY) launched Startup Accelerators of MeitY for pRoduct Innovation, Development and growth (SAMRIDH) programme.
SAMRIDH will create a conducive platform for Indian software product startups to enhance their products and secure investments for scaling their business.
The programme is being implemented by MeitY Start-up Hub (MSH).
Government will support startups and entrepreneurs in the most challenging phase which is the initial risk phase, Vaishnaw had said earlier.
The SAMRIDH programme will focus on accelerating 300 start-ups by providing customer connect, investor connect, and international expansion opportunities in the next three years.
Also, an investment of up to Rs 40 lakh to startups, based on their current valuation and growth stage will be provided through selected accelerators.
It will also facilitate equal matching investment by the accelerator or investor.
The programme aims to further the Indian startup growth which has seen the emergence of 63 unicorns (Startups with over $1 billion valuation), making India the third largest unicorn hub globally with a total valuation of $168 billion.