Middle East Green Initiative Summit 2022: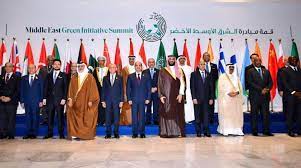 Union Minister for Environment Forest and Climate Change attended the Middle East Green Initiative Summit 2022 at COP 27 Egypt
The Middle East Green Initiative aims to reduce carbon emissions from regional hydrocarbon production by more than 60%.
It also plans to plant 50 billion trees across the Middle East and restore an area equivalent to 200 million hectares of degraded land.
The initiative will help reduce global carbon levels by 2.5%.
The first Middle East Green Initiative (MGI) Summit was hosted by HRH Mohammed bin Salman, Crown Prince and Prime Minister in Riyadh on 25 October 2021.
It facilitated a first-of-its-kind regional dialogue on climate, with leaders in attendance from 28 countries agreeing to work together to tackle climate change.
Saudi Arabia plans to rely on renewables for 50% of its electricity generation by 2030, , removing 44 million tonnes of carbon emissions by 2035.