New Draft Of National Youth Policy: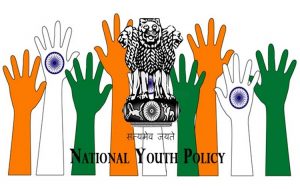 A new draft of the National Youth Policy (NYP) has been prepared by the central government of India. The new draft has been prepared after the government reviewed the existing National Youth Policy, 2014.
A ten-year vision for the development of youth has been envisioned by this draft policy that India is looking to achieve by the year 2030.
The Department of Youth Affairs has asked for suggestions and comments regarding the draft of the NYP from all stakeholders across the country.
The suggestions, as well as the comments regarding the new draft policy, must be sent within 45 days i.e. the 13th of June 2022.
This policy has been aligned with the country's Sustainable Development Goals and it also looks to unlock the potential of the country's youth.
This policy is looking to establish extensive action regarding youth development across five priority areas which are:

entrepreneurship and employment
education
development and youth leadership
social justice
sports, fitness, and health

The priority areas have been identified under the principle of social inclusion.
This will help in achieving equitable progress by including the country's most marginalized sections.