Nano Urea: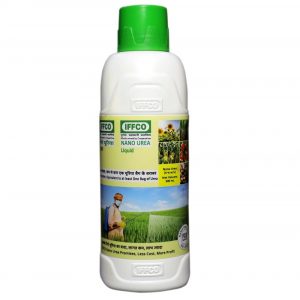 India will produce over 6cr bottles of Nano urea and make it available to farmers in 2022-23.
Urea is chemical nitrogen fertilizer, white in colour, which artificially provides nitrogen, a major nutrient required by plants.
Liquid nano urea is essentially urea in the form of a nanoparticle.
It is a patented chemical nitrogen fertilizer produced by IFFCO.
Nano urea is cheaper (Rs 240 for half litre without subsidy; the International market price of a bag of urea is between Rs 3,500 and Rs 4,000. A bottle of nano urea can effectively replace at least one bag of urea.
Benefits for the government: Reduces fertilizer subsidy bill of government. India is dependent on imports of the widely used fertilizer.
The efficiency of Nano urea can be as high as 85-90 per cent (Conventional urea has an efficiency of about 25 per cent).
As Nano urea has higher surface-mass ratios that help in releasing nutrients to plants in a controlled manner.
Nano urea has a shelf life of a year, and farmers need not be worried about "caking" when it comes in contact with moisture.
Benefits Of Nano urea:
Fertilizers in nano form provide a targeted supply of nutrients to crops, as they are absorbed by the stomata, and pores found on the epidermis of leaves.
Reduces the unbalanced and indiscriminate use of conventional urea.
Increases crop productivity by 8%
Reduces soil, water, and air pollution.