MQ-9B Predator Drone: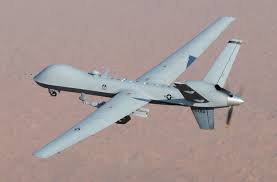 The Defence Ministry recently accorded its approval to procure 30 MQ-9B Predator drones (SeaGuardian variant) from the US to crank up the surveillance apparatus of the armed forces.
The MQ-9B drone is a variant of the MQ-9 "Reaper", an unmanned aerial vehicle (UAV) capable of remotely controlled or autonomous flight operations.
These are high-altitude long-endurance drones armed with strike missiles which can take out enemy targets with high accuracy.
It was developed by General Atomics Aeronautical Systems(GA-ASI), primarily for the United States Air Force (USAF).
The MQ-9B has two variants — SkyGuardian and its sibling SeaGuardian.
The Indian Navy has been operating the MQ-9B Sea Guardian since 2020.
MQ-9B SeaGuardian can carry up to 5,670 kg and has a fuel capacity of 2,721 kg.
The drone can operate at over 40,000 feet.
The Predator also has a maximum endurance of 40 hours, making it useful for long-hour surveillance.
It can support land, maritime surveillance, anti-submarine warfare, anti-surface warfare, strike, electronic warfare and expeditionary roles.