NASM-SR Missile: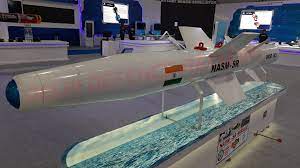 The Navy recently tested an indigenous Naval Anti-Ship Missile (Short Range) or NASM-SR from a Sea King helicopter at the Integrated Test Range in Balasore, Odisha.
The NASM-SR has been developed by the Defence Research and Development Organisation (DRDO).
The NASM-SR has a range of 55 km and weighs 385 kg.
This missile will replace the Sea Eagle missiles which are currently in use with the Navy. With the Sea King helicopters too being phased out, it is expected that the NASM-SR will be used with the new MH-60R multi-role helicopters, which are being inducted into the Navy.
The NASM-SR carries a warhead of 100 kg and has sub-sonic capabilities, which means that it flies below the speed of sound at 0.8 Mach.
The sub-sonic flight speed makes it difficult for the naval vessels on target to detect it.
It has a launch altitude of maximum of 3 km and can skim 5 metres above sea level when on final approach to the target.
The NASM-SR can also be fired from the shore to target vessels in the sea.