Foreign Contribution (Regulation) Act, 2010: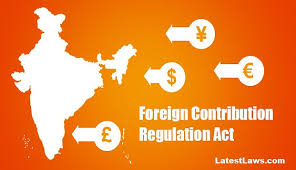 The Ministry of Home Affairs (MHA) issued new regulating guidelines to banks under Foreign Contribution (Regulation) Act, 2010.
It states that the donations received in Indian rupees by non-governmental organizations (NGOs) and associations from any foreign source (even if that source is located in India at the time of such donation) should be treated as a foreign contribution.
About the New Guidelines:
Widening the Scope of Foreign Contribution: Under the issued regulations, donations given in Indian rupees (INR) by any foreigner/foreign source including foreigners of Indian origin like Overseas Citizen of India (OCI) or Person of India Origin (PIO) cardholders should also be treated as foreign contribution.
Meeting the Standards of FATF: The guidelines mandate that good practices should be followed by NGOs in accordance with the standards of the global financial watchdog- Financial Action Task Force (FATF).
It asked NGOs to inform the Ministry about "suspicious activities" of any donor or recipient and "take due diligence of its employees at the time of recruitment."
Need Monthly Current Affairs PDF?
Get everything on your phone with our all in one app for your UPSC Preparation.
Get daily current affairs on you phone
Download monthly current affairs PDF
All India daily mock tests with ranking