National Conference On Agriculture For Zaid Campaign-2023: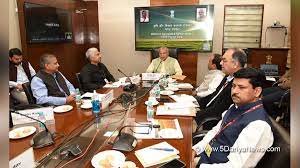 Union Agriculture and Farmers Welfare Minister chaired the National Conference on Agriculture for Zaid (Summer) Campaign-2023 in New Delhi.
The objective of the Zaid conference is to review and assess the crop performance during the preceding crop seasons and fix crop-wise targets for the summer season in consultation with State Governments.
Zaid or summer crops are grown in the short season between Kharif and Rabi crops, between March and July.
These crops are mostly grown on irrigated lands and therefore, the farmers do not wait for the monsoon.
Zaid crops require warm soil and high temperatures (cooling at night) to grow.
They require warm, dry weather as a vital growth period and longer day length for flowering.
Most of the vegetables and hybrid cereals are grown in the zaid season.
Major crops: Paddy, corn; pumpkin, cucumber, tomato; almonds, peanuts, cashews; Gram, lentils, etc.
Cultivation areas in India: Uttar Pradesh, Punjab, Haryana, Gujarat, and Tamil Nadu.
Zaid crop is significant for farmers as it gives fast cash to the farmers and is also known as a gap-filler between two chief crops, Kharif and Rabi.