National Maritime Heritage Complex: Lothal: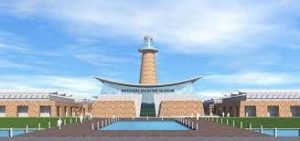 The Ministry of Culture (MoC) and Ministry of Ports, Shipping and Waterways (MoPSW) signed a Memorandum of Understanding (MoU) for 'Cooperation in Development of National Maritime Heritage Complex (NMHC)' at Lothal, Gujarat.
NMHC will be developed in Lothal region of Gujarat.
It would be developed as an international tourist destination, where the maritime heritage of India from ancient to modern times would be showcased.
The idea is to create an edutainment (education with entertainment) approach for this destination that would be of great interest for the visitors.
It is going to cover an area of 400 acres, with structures such as Heritage Theme Park, National Maritime Heritage Museum, Lighthouse Museum, Maritime Institute, eco-resorts, and more.
There will also be many pavilions where all coastal states in India and union territories can showcase their artifacts and maritime heritage.
The unique feature of NMHC is the recreation of ancient Lothal city, which is one of the prominent cities of the ancient Indus valley civilization.
About Lothal:
Lothal was one of the southernmost cities of the ancient Indus Valley Civilization located in Gujarat.
Construction of the city began around 2400 BCE.