Contempt Of Court: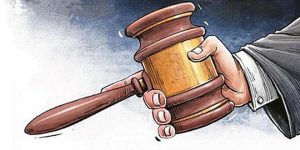 Chief Justice of India N.V. Ramana has agreed to immediately list for hearing a petition to initiate contempt action against Haryana authorities for not reining in 'hooligans' who have created an 'atmosphere of communal hatred and terror' for worshippers offering Friday prayers in Gurugram.
The petition condemned the inaction of the Haryana officials in violation of a Supreme Court judgment of 2018, which mandated that authorities should not be either silent spectators or tolerate communal violence and should use the law against hate crimes.
While the basic idea of a contempt law is to punish those who do not respect the orders of the courts, in the Indian context, contempt is also used to punish speech that lowers the dignity of the court and interferes with the administration of justice.
Contempt of court can be of two kinds:
Civil, that is the willful disobedience of a court order or judgment or willful breach of an undertaking given to a court.
Criminal, that is written or spoken words or any act that scandalises the court or lowers its authority or prejudices or interferes with the due course of a judicial proceeding or interferes/obstructs the administration of justice.
Article 129 and 215 of the Constitution of India empowers the Supreme Court and High Court respectively to punish people for their respective contempt.
Section 10 of The Contempt of Courts Act of 1971 defines the power of the High Court to punish contempts of its subordinate courts.
The Constitution also includes contempt of court as a reasonable restriction to the freedom of speech and expression under Article 19, along with elements like public order and defamation.