National Hydrogen Mission: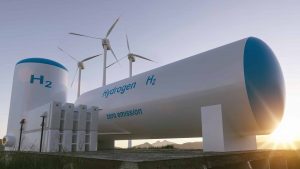 The launch of the National Hydrogen Mission was announced by PM Modi. The aim is to make India a global hub for the production and export of green hydrogen.
The proposal for the National Hydrogen Mission was made in the Budget 2021 to launch NHM that would enable the generation of hydrogen "from green power sources".
Hydrogen is the lightest and first element on the periodic table. Since the weight of hydrogen is less than air, it rises in the atmosphere and is therefore rarely found in its pure form, H2.
At standard temperature and pressure, hydrogen is a nontoxic, nonmetallic, odorless, tasteless, colorless, and highly combustible diatomic gas.
Hydrogen fuel is a zero-emission fuel burned with oxygen. It can be used in fuel cells or internal combustion engines. It is also used as a fuel for spacecraft propulsion.
Hydrogen can be stored physically as either a gas or a liquid.
Storage of hydrogen as a gas typically requires high-pressure tanks.
Storage of hydrogen as a liquid requires cryogenic temperatures because the boiling point of hydrogen at one atmosphere pressure is −252.8°C.
Hydrogen can also be stored on the surfaces of solids (by adsorption) or within solids (by absorption).