National Startup Awards 2021: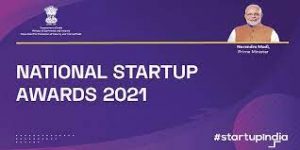 The Union Minister of Commerce & Industry presented the second edition of National Startup Awards 2021.
It was also announced that 16th January (Startup India Initiative was launched on this day in 2016) will be celebrated as National Start-up Day, to take the Startup culture to the far flung areas of the country.
The 'Blockchain-enabled verification for Department for Promotion of Industry and Internal Trade (DPIIT) tax incentive certificates', 'Digilocker enabled DPIIT Startup recognition certificate' were also launched.
Designed by Department for Promotion of Industry and Internal Trade (DPIIT), Ministry of Commerce & Industry.
Aim is to recognize and reward outstanding Startups and ecosystem enablers that are building innovative products or solutions and scalable enterprises, with high potential of employment generation or wealth creation, demonstrating measurable social impact.
2021 Awards:
The second edition of the awards invited applications across 15 sectors and 49 sub-sectors.
The 2021 edition of the awards also recognized exceptional Startups innovating solutions to promote Indic languages and to compliment national efforts to combat Covid-19 pandemic.
All applicants were evaluated against six broad parameters namely Innovation, Scalability, Economic Impact, Social Impact, Environmental Impact, and Inclusiveness and Diversity.
The winning startup founders will get a cash prize of Rs. 5 lakh and an opportunity to present their solutions to relevant public authorities and corporates. Incubators and accelerators will get Rs. 15 lakh as the winning amount.
46 startups along with 1 incubator and 1 accelerator were honoured with the award.