National Youth Parliament Festival 2022: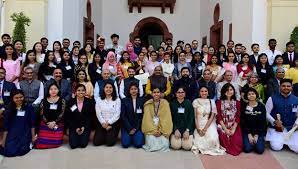 The 3rd edition of National Youth Parliament Festival (NYPF) -2022 was conducted in the Central Hall of Parliament in New Delhi.
National Youth Parliament is an innovative programme to equip youth with the understanding of parliamentary procedures and democratic processes.
NYPF is based on the idea given by the Prime Minister in his Mann Ki Baat Address in 2017.
Objective: To hear the voice of youth in this age bracket of 18-25 who are allowed to vote but cannot contest in elections.

To encourage the youth to engage with public issues, understand the common man's point of view, form their opinion and express these in an articulate manner.

The 1st edition of NYPF was organised in 2019, with the theme "Be the Voice of New India and Find solutions and Contribute to Policy ".
The 2nd edition of NYPF was organized in 2020, with the theme "YUVAAH- Utsah Naye Bharat Ka"
All recognised educational institutions of the country are eligible to participate in this programme.
Kishore Sabha for the students of Class IX to XII .
Tarun Sabha for the students of Under Graduate/ Post Graduate level.
The registration for participation will be done by the education institutions through the web-portal.
To ensure effective implementation of the scheme, the participating institutions may invite an MP/ex-MP/ MINA/' Ex-MLA/ MLC/ Ex-MLC or a Person of eminence as the Chief Guest who would oversee the performance of the Youth Parliament sitting of the institution.
Organized by: Ministry of Youth Affairs and Sports.