Neobank : 100th Unicorn In The Country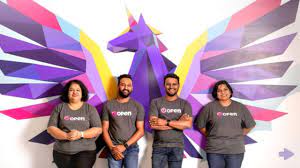 India's wave of unicorns reaches an all-time high with Neobank Open becoming the 100th unicorn in the country.
Neobank startup, OPEN becomes the 100th unicorn in India with the latest funding of 50 million dollars from IIFL along with existing investors.
The Indian Startup Ecosystem, the third-largest in the world in number of Unicorns, is now home to 100 unicorns with a total valuation of 332.7 billion dllars.
Commerce & Industry Ministry said that one out of every 10 unicorns born globally belongs to India.
The term 'Unicorns' is referred to startups that attain a valuation of more than 1 billion dollars.
As per the ministry, in the first four months of 2022, India has given birth to 14 unicorns with a total valuation of 18.9 billion dollars.