New Arctic Policy: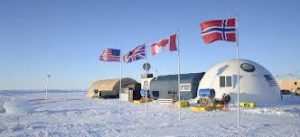 India drafted a new Arctic policy that aims at expanding scientific research, sustainable tourism and exploration of mineral oil and gas in the Arctic region.
About the Policy:
Nodal Body: India has designated Goa-based National Centre for Polar and Ocean Research to lead scientific research and act as a nodal body to coordinate among various scientific bodies to promote domestic scientific research capacities in the Arctic.
Objectives:
Promoting Scientific Study of Arctic: Orient the curriculum on earth sciences, biological sciences, geosciences, climate change and space-related programmes with Arctic imperatives in Indian Universities.
Planning Explorations: Formulating effective plans for Arctic-related programmes for mineral/oil and gas exploration in petroleum research institutes
Promoting Arctic Tourism: Encouraging tourism and hospitality sectors by building specialised capacities and awareness by engaging with Arctic enterprises.
About the Arctic:
The Arctic is a polar region located at the northernmost part of Earth.
The Arctic consists of the Arctic Ocean, adjacent seas, and parts of Alaska (United States), Canada, Finland, Greenland (Denmark), Iceland, Norway, Russia, and Sweden.
Land within the Arctic region has seasonally varying snow and ice cover.