India's Tibet Policy: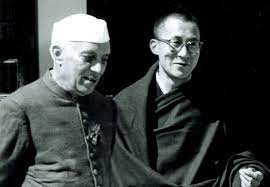 Some Chinese nationals protested against the celebration of the birthday of the Dalai Lama in India.
The Dalai Lama and Tibet is one of the major irritants between India and China relations.
China considers the Dalai Lama a separatist, who has great influence over Tibetans.
India seeks to use Tibetan card in order to counter China's continuing aggression at the Line of Actual Control.
For centuries, Tibet was India's actual neighbour, as most of India's boundaries and the 3500km LAC is with the Tibetan Autonomous Region, and not the rest of China.
In 1914, it was Tibetan representatives, along with the Chinese that signed the Simla convention with British India that delineated boundaries.
However, after China's full accession of Tibet in 1950, that China repudiated the convention and the McMahon line that divided the two countries.
Further, in 1954, India signed an agreement with China, agreeing to recognize Tibet as "Tibet region of China".
In 1959, following the Tibetan uprising, the Dalai Lama (spiritual leader of Tibetan people) and many of his followers fled to India.
Former Prime Minister Jawahar Lal Nehru gave him and Tibetan refugees shelter, and helped in setting up the Tibetan government in exile.
The official Indian policy is that the Dalai Lama is a spiritual leader, and the Tibetan community in India, with more than a lakh exiles, is not allowed to undertake any political activity.
Shift in India's Tibet Policy:
In the event of increasing tensions between India and China, there has been a shift in India's Tibet Policy.
This shift in the policy, earmarks the Indian government actively managing with the Dalai Lama in public forums. For Example,
In 2014, Prime Minister of India (PM) had invited the head of the Tibetan government in exile in India, Lobsang Sangay, to his swearing in ceremony.
However, he did not invite him in 2019 after being re-elected for a second five-year term, to ensure a smooth passage for a second informal summit between him and Chinese president Xi Jinping.
Recently, the Prime Minister of India (PM) wished the Dalai Lama in the first such public acknowledgement since 2013, the first time as PM.
The shift in India's Tibet policy is majorly focused on symbolic aspects, but there are many challenges pertaining to India's Approach to Tibet Policy.