China's Legislature Has Adopted A New Border Law: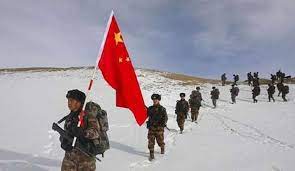 China's legislature has adopted a new border law, to take effect on January 1, 2022 that calls on the state and military to safeguard territory and "combat any acts" that undermine China's territorial claims.
The law was first proposed in March 2021, a year into tensions that erupted along the Line of Actual Control (LAC) with India after the People's Liberation Army (PLA) mobilised two divisions in forward areas and carried out multiple transgressions.
China has unresolved border disputes with India and Bhutan.
The new law would formalise some of China's recent actions in disputed territories with both India and Bhutan, including the PLA's massing of troops in forward areas along the India border, multiple transgressions across the LAC, and the construction of new "frontier villages" along the border with Bhutan.
Article 22 of the law says the PLA "shall carry out border duties" including "organising drills" and "resolutely prevent, stop and combat invasion, encroachment, provocation and other acts".
The passing of the law coincides with stepped up Chinese activity along the land borders, which have mirrored actions in disputed waters in the East and South China Sea.
The law will give a stamp of approval for the military's recent actions in disputed areas.