China's New Border Law: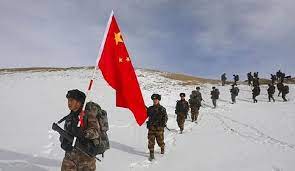 China's new law on land borders came into effect from 1st January, 2022.
It comes at a time when border standoff in eastern Ladakh remains unresolved and several places in Arunachal Pradesh have been renamed recently by China as part of its claim on the Indian state.
The new law lays down that the People's Republic of China (PRC) shall set up boundary markers on all its land borders to clearly mark the border.
The People's Liberation Army (PLA) and Chinese People's Armed Police Force are assigned with the responsibility of maintaining security along the border.
This responsibility includes cooperating with local authorities in combating illegal border crossings.
The law prohibits any party from indulging in any activity in the border area which would "endanger national security or affect China's friendly relations with neighbouring countries".
Even citizens and local organisations are mandated to protect and defend the border infrastructure.
Finally, the law provides for the border to be sealed in the event of a war, armed conflict, incidents which threaten the security of border residents such as biological and chemical accidents, natural disasters, and public health incidents.
On the topic of its border-sharing countries, the law lays down that the relations with these countries is to be based on principles of "equality and mutual benefit".
Further, the law provides for provisions for formation of joint committees, both civil and military, with the said countries to negotiate land border management and resolve border-related issues.
The law also stipulates that PRC should abide by the treaties on land borders that it has signed with the respective countries and all border issues are to be settled through negotiations.