Gogra: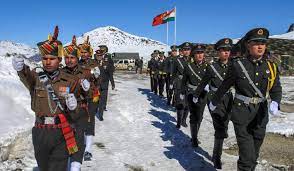 After the talks on July 31, India and China have taken one more step towards restoring peace and normalcy on the LAC by disengaging at Gogra.
It has taken 12 rounds of military-level talks to see both sides disengage and put in place buffer zones in the Galwan Valley, the site of the June 2020 clash that marked the worst violence since 1967, Pangong Lake, and now Patrolling Point 17 in Gogra.
The disengagement process at PP17 took place on August 4 and 5, with a return to permanent bases.
The next round of talks will discuss PP15 in Hot Springs. Demchok, where China has transgressed in relatively smaller numbers than the deployments seen in Pangong Lake, also remains unresolved.
Beijing has appeared unwilling to discuss the strategically significant Depsang plains, where the Chinese side has been blocking Indian patrols.
Hot Springs is a campsite and the location of an Indian border checkpost in the Chang Chenmo River valley in Ladakh near the disputed border with China.
Gogra is actually in a branch valley of the Changchenmo watered by the Khugrang River, northwest of Hot Springs.