New Species Of Naked-Toed Gecko: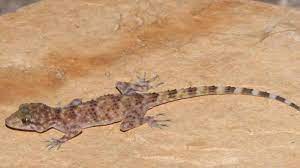 A new species of naked-toed gecko (Cyrtopodion) has been discovered in Dahod and Panchmahals districts in Gujarat.
The newly discovered naked-toed gecko has been named 'Cyrtopodion Vindhya' and it is the fifth endemic species of reptile described in the last fifteen years from the state of Gujarat.
The new species is named after the Vindhya hill ranges.
The Palearctic naked-toed geckos of the genus Cyrtopodion are a group of gekkonid lizards distributed across the arid regions of north Africa, Arabia, and Central Asia to northwestern India.
The taxonomic history of the genus Cyrtopodion has been unstable, and 23 species are currently recognized, with the diversity concentrated in Pakistan and Iran.
The newly discovered reptile is a nocturnal species, associated with granite boulders.
Mostly =living among rocks in its habits but can be found on the ground as well.