Nikhat Zareen : World Women's Boxing Championships Winner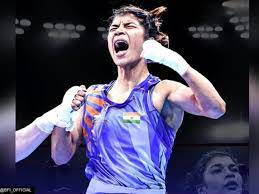 Nikhat Zareen became the fifth Indian woman to win a World title at World Women's Boxing Championships 2022 in Istanbul by defeating Thai Olympian Jutamas Jitpong at 5-0 in the 52 kg category.
Manisha Moun and Parveen Hooda also won bronze medals in separate categories 57kg and 63kg respectively.
India last won a World title when Mary Kom had become a six-time champion in Delhi in 2018.
Overall, India's medal tally has reached 39 including 10 gold, eight silver and 21 bronze medals in the 12th editions of the World championships and become the third-highest after Russia (60) and China (50).
Six-time champion M.C. Mary Kom (2002, 2005, 2006, 2008, 2010 and 2018), Sarita Devi (2006), R.L. Jenny (2006) and K.C. Lekha (2006) are the other Indian women who have won the World title.
World Boxing Championship:
World Boxing Championships are amateur boxing competitions organized by the International Boxing Association (IBA), which is the sport's governing body.
The mission of IBA is to promote, support and govern the sport of boxing worldwide in accordance with the requirements and spirit of the Olympic Charter.