World Doubles Squash Championships: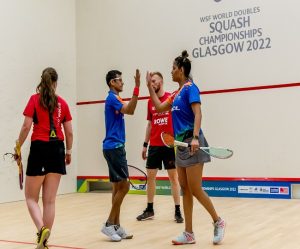 Dipika Pallikal won the mixed doubles and women's doubles championships at the World Doubles Squash Championships teaming up with Saurav Ghosal and Joshna Chinappa respectively.
Teaming up with Saurav Ghosal, Dipika first clinched the mixed doubles title with an 11-6, 11-8 win over Alison Waters and Adrian Waller of England.
An hour and a half after winning the mixed doubles, she teamed up with Joshna Chinappa to win the women's doubles final with an 11-9, 4-11, 11-8 win over Sarah Jane Perry and Alison Waters who were representing England.
India had never won gold in the World Doubles Squash Championships and this is the first time the country has won the gold medal in this tournament.
The men's doubles were won by Declan James and James Willstrop of England.
In Glasgow, Scotland, this year's event was held.
In the mixed doubles, Joshna Chinappa and Vikram Malhotra finished tenth after losing 11-4, 11-6 to Aifa Azman and Mohammad Syafiq Kamal of Malaysia. The only men's doubles entries from India were Vikram Malhotra and Ramit Tandon.