Non-Alcoholic Fatty Liver Disease: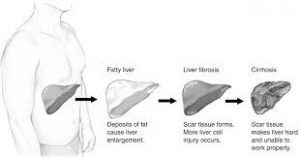 Union Health Minister Harsh Vardhan said that India has become the first country in the world to identify the need for action for Non-Alcoholic Fatty Liver Disease. 
He said this while launching the operational guidelines for integration of Non-Alcoholic Fatty Liver Disease with the National Programme for Prevention & Control of Cancer, Diabetes, Cardiovascular Diseases, and Stroke.
Non-alcoholic fatty liver disease (NAFLD) is an umbrella term for a range of liver conditions affecting people who drink little to no alcohol.
As the name implies, the main characteristic of NAFLD is too much fat stored in liver cells.
NAFLD is increasingly common around the world, especially in Western nations.
Some individuals with NAFLD can develop non-alcoholic steatohepatitis (NASH), an aggressive form of fatty liver disease, which is marked by liver inflammation and may progress to advanced scarring (cirrhosis) and liver failure.
This damage is similar to the damage caused by heavy alcohol use.