Lumpy Skin Disease: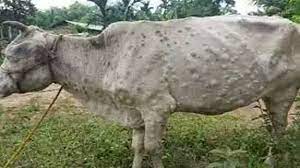 With the lumpy skin disease spreading fast among bovines in western and northern Rajasthan, cattle-rearers in the State are suffering heavy losses.
The infection has spread to about 25,000 cattle in the last couple of months and resulted in the death of more than 1,200 animals.
Lumpy skin disease (LSD) is an infectious disease in cattle caused by a virus of the family Poxviridae, also known as Neethling virus.
The disease is characterized by fever, enlarged superficial lymph nodes and multiple nodules (measuring 2–5 centimetres (1–2 in) in diameter) on the skin and mucous membranes (including those of the respiratory and gastrointestinal tracts).
Infected cattle also may develop edematous swelling in their limbs and exhibit lameness.
The virus has important economic implications since affected animals tend to have permanent damage to their skin, lowering the commercial value of their hide.
Additionally, the disease often results in chronic debility, reduced milk production, poor growth, infertility, abortion, and sometimes death.