NOTA : Karnataka Assembly Polls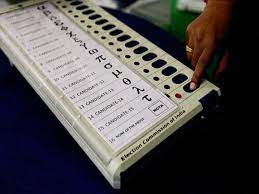 According to the Election Commission (EC) figures, over 2.6 lakh voters opted for NOTA in the recently held Karnataka assembly polls.
NOTA (None of the Above) is a ballot option provided in the elections to the Indian voter.
It is the option which enables the voter to officially register a vote of rejection for all candidates who are contesting.
If a voter chooses to press NOTA, it indicates that the voter has not chosen to vote for any of the parties.
Objective is to enable electors who do not wish to vote for any of the candidates to exercise their right to reject without violation of the secrecy of their decision.
NOTA was used for the first time in the 2013 Assembly elections in five states – Chhattisgarh, Mizoram, Rajasthan, Delhi, and Madhya Pradesh – and later in the 2014 General Elections.
It was introduced into the electoral process following the 2013 Supreme Court directive in the PUCL versus Union of India case.
The NOTA option in the Electronic Voting Machines (EVMs) is given at the bottom of the candidates' list.
Earlier, in order to cast a negative ballot, a voter had to inform the presiding officer at the polling booth.
Now the voter has just to press the NOTA option on the EVM.