Discovery Of Relics And Artefacts : Satavahana Period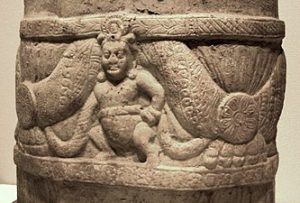 A team of researchers and history enthusiasts recently made a praiseworthy discovery of relics and artefacts which they suggest belong to the Satavahana period from the 1st Century BC to the 3rd Century AD.
The Satavahanas, also referred to as the Andhrasin the Puranas, were an ancient Indian dynasty based in the Deccan region.
Most modern scholars believe that the Satavahana rule began in the late second century BCE and lasted until the early third century CE.
They ruled from Pune in Maharashtra to Coastal Andhra Pradesh. At its greatest extent, the Satavahana empire covered the whole of the Deccan and spread far into Northern India, perhaps even as far as Magadha.
They played the most significant role in Indian history in the period between the fall of the Mauryas and the rise of the Gupta Empire.
Satavahana Dynasty was established in the 1st century BC in the western Deccan Plateau.
Satavahana Rulers had emerged from the Andhra region or the delta areas of the Krishna River and Godavari River.
The dynasty was built upon the ruins of the Maurya Empire.
The dynasty had different capital cities at different times, including Pratishthana (Paithan) and Amaravati (Dharanikota).
The Satavahana polity was extensively decentralized, as local administration was left largely to feudatories subject to the general control of royal officials.
The king was at the apex of the administrative hierarchy and was considered the guardian of the established social order.
Though the royal power was absolute, it was subject to religious dictates & public opinion.
The king had to rule in accordance with the rules laid down in the Dharmashastras.