Nuclear Medicine: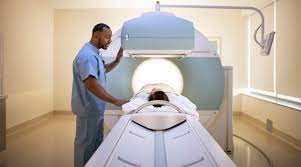 India has expressed its support for South Africa's Integrated Early Warning systems and Russia's BRICS Collaboration in Nuclear Medicine
Nuclear Medicine is a medical speciality that uses radioactive substances to diagnose and treat diseases.
It involves the use of small amounts of radioactive materials, known as radiopharmaceuticals, which are introduced into the body.
These substances emit gamma rays that can be detected by specialized cameras to create images of organs and tissues.
This imaging technique helps in diagnosing various conditions, such as cancer, heart disease, and bone disorders, by providing detailed information about the functioning and structure of internal organs.
Nuclear medicine treatments involve using radioactive substances to target and destroy specific cells or tissues, such as cancer cells.