Nutrient Based Subsidy : Approved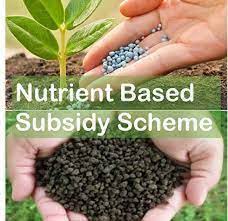 The union cabinet has approved Nutrient Based Subsidy (NBS) rates for the various nutrients of Rabi and Kharif Season for 2022-23.
For Rabi Season 2022-23: NBS approved for various nutrients i.e. Nitrogen (N), Phosphorus (P),Potash (K) and Sulphur (S)
For Kharif Season 2023: NBS rates approved for Phosphatic and Potassic (P&K) Fertilizers.
Under Nutrient Based Subsidy (NBS) Regime fertilizers are provided to the farmers at the subsidized rates based on the nutrients (N, P, K & S) contained in these fertilizers.
Also, the fertilizers which are fortified with secondary and micronutrients such as molybdenum (Mo) and zinc are given additional subsidy.
The subsidy on P&K fertilizers is announced by the Government on an annual basis for each nutrient on a per kg basis – which are determined taking into account the international and domestic prices of P&K fertilizers, Exchange Rate, inventory level in the country etc.
NBS policy intends to increase the consumption of P&K fertilizers so that optimum balance (N:P:K= 4:2:1) of NPK fertilization is achieved.
This would improve soil health and as a result the yield from the crops would increase, resulting in enhanced income to the farmers.
The government expects rational use of fertilizers, this would also ease off the burden of fertilizer subsidy.
It is being implemented from April 2010 by the Department of Fertilizers, Ministry of Chemicals & Fertilizers.