Odisha's Mo Bus: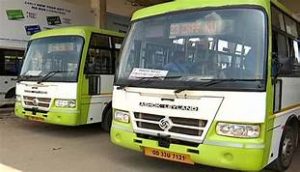 Mo Bus, the bus service of Odisha's Capital Region Urban Transport (CRUT) authority, has been recognised by the United Nations as one of 10 global recipients of its annual Public Service Awards for 2022 – for its role in "promoting gender-responsive public services to achieve the SDGs (Sustainable Development Goals)"
Mo Bus incorporates:
Real-time technologies like live tracking, travel planner and e-ticketing"
E-rickshaw system called 'Mo E-Ride' has been introduced as a last-mile feeder service.
Impact:

57 per cent of the city's commuters now use the Mo Bus.
Mo E-Ride is estimated to reduce pollution by 30-50 per cent.
40 per cent of Mo Bus conductors are women and 100 per cent of Mo E-Ride drivers are women, transgender people, and people from disadvantaged communities.