Webinar On "Export Promotion Of Tissue Culture Plants'':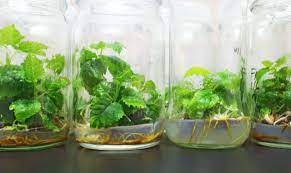 The Centre through the Agricultural and Processed Food Products Export Development Authority (APEDA) conducted a webinar on "Export Promotion of Tissue Culture Plants'' such as Foliage, Live Plants, Cut Flowers, and Planting Material" with Department of Biotechnology (DBT) accredited tissue culture laboratories spread across India.
The aim is to boost exports of tissue culture plants.
Tissue Culture is the production of new plants from a small piece of plant tissue or cells removed from the growing tips of a plant in a suitable growth medium.
In this process the growth medium or culture solution is very important as it is used for growing plant tissue because it contains various plant nutrients in the form of 'jelly' known as agar and plant hormones which are necessary for the growth of plants.
India is bestowed with knowledge, biotech experts with vast tissue culture experience as well as with a low-cost labour force to help produce export-oriented quality planting material.
All these factors make India a potential global supplier of an extended and diversified range of quality flora to the international market and, in turn, earn foreign exchange.
APEDA is running a Financial Assistance Scheme (FAS) to help laboratories upgrade themselves so as to produce export quality tissue culture planting material.
It also facilitates exports of tissue culture planting material to diversified countries through market development, market analysis and promotion and exhibition of tissue culture plants at international exhibitions and by participating in buyer-seller meets at different international forums.
The top ten countries importing tissue culture plants from India are:

Netherlands, USA, Italy, Australia, Canada, Japan, Kenya, Senegal, Ethiopia and Nepal.
In 2020-2021, India's exports of tissue culture plants stood at USD17.17 million, with the Netherlands accounting for around 50% of the shipments.