Ol Chiki Script: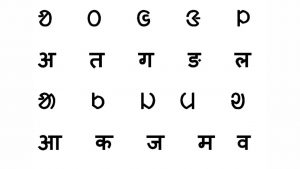 The Prime Minister India for saluting the immortal tribal revolutionaries on Hul Diwas used Ol Chiki script of Santhali language.
Ol Chiki script was created in 1925 by Raghunath Murmu (1905-1982), writer and teacher from what is Mayurbhanj State (now part of Odisha) in India as a way to write Santhali a Munda language.
Ol Chiki is also known as Ol Cemet', Ol Ciki, Ol or the Santhali alphabet.
It was created as a way to promote Santhali culture.
The script was first publicized in 1939 at the Mayurbhanj State exhibition.
Murmu published over 150 books in Santhali in the Ol Chiki script, including novels, poetry, drama, grammars, dictionaries and other information about the language and script.
Santhali is also written with the Latin, Odia, Bengali and Devanagari alphabets.
Santhali language is spoken mainly in Jharkhand and West Bengal states in northern India, and also in northwestern Bangladesh, eastern Nepal and Bhutan.
Hul Diwas : Revolution – began in 1855 two years before the uprising of 1857.