Translation Of India's Constitution Into Ol Chiki Script: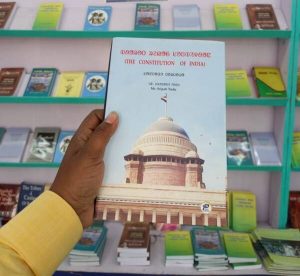 India's Constitution has been translated into Ol Chiki script for the first time.
The Ol Chiki script, also known as Ol Chemet', Ol Ciki, Ol, and sometimes as the Santali alphabet, is the official writing system for Santhali, an Austroasiatic language recognized as an official regional language in India.
The Constitution of India has special provisions for the development of the Scheduled Castes and the Scheduled Tribes, and the translation has been useful in providing a deeper understanding of laws, powers and the community's fundamental rights for readers like Hembram. (Hembram is a surname which is commonly used among the Santhal tribals).
Adivasi scholars often point to Article 21 under Schedules V and VI of the Constitution that set out the rights of tribal peoples to development in ways that affirm their autonomy and dignity, and are considered by many to be the foundation of Adivasi rights.
5th Schedule: It deals with the administration and control of Scheduled Areas as well as of Scheduled Tribes residing in any State other than the States of Assam, Meghalaya, Tripura and Mizoram.
6th Schedule: It provides for the administration of tribal areas in Assam, Meghalaya, Tripura and Mizoram to safeguard the rights of the tribal population in these states. This special provision is provided under Article 244(2) and Article 275(1) of the Constitution.