Pangong Tso Lake : Ramp Up Infrastructure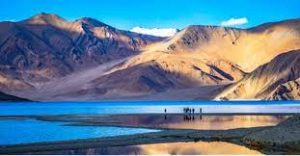 Three years after the violent clash between Indian and Chinese forces in Galwan both countries ramp up infrastructure on north bank of Pangong Tso.
Pangong Tso lake is one of the most famous lakes in Leh Ladakh, derives its name from the Tibetan word, "Pangong Tso", which means "high grassland lake".
It is also known as Pangong Lake which is a long narrow, endorheic (landlocked) lake situated at a height of more than 14,000 ft (4,350 meters) in the Ladakh Himalayas.
It is the world's highest saltwater lake.
India holds one-third of the 135 km-long boomerang-shaped Pangong lake.
One-third of the Pangong Lake lies in India and the other two-thirds in China.
It is also known to change colours, appearing blue, green, and red at different times.